Team Competes for $10K to Support Oxidative Stress Research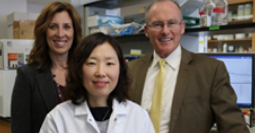 Fischell Institute faculty member Gregory Payne (Institute for Bioscience and Biotechnology Research) and a team of researchers developed a tool that detects biological signatures in blood that measures the level of oxidative stress in a patient. The standard techniques to measure oxidative stress in clinical samples generally involve measuring individual antioxidants, a costly, time-consuming process that can potentially miss important markers for diagnosing or treating diseases. Knowing this, the UMD research team's method applies the power of signal processing to chemical analysis, enabling a rapid and adaptable diagnostic tool.
Along with Payne, Deanna Kelly, professor of psychiatry and affiliate professor of pharmacy practice and science at the University of Maryland, Baltimore's School of Medicine; IBBR Post-Doctoral Associate Mijeong Kang; and IBBR Research Associate Eunkyoung Kim invented the device. Fischell Institute Chief Engineer John Rzasa executed the device design in-house. They first applied their technology to detect signatures of oxidative stress in people living with schizophrenia, but, more recently, they have worked on applications for cardiovascular disease and necrotizing enterocolitis in premature infants.
Now, the team is competing for $10,000 in funding from MedTech Innovator in this year's Best Video Award competition.
Until September 24, competing teams will earn "votes" based on video views and likes. Visit YouTube to view and like their video to show support.
Published September 17, 2020