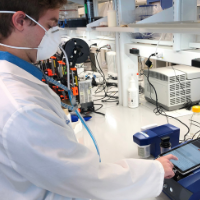 Quinn Burke is working to develop and enhance a conformal respirator mask alongside ActivArmor, a medical device company headquartered in Pueblo, Colo. Burke's work involves testing the respirators to meet U.S. Food and Drug Administration (FDA), National Institute for Occputational Safety and Health (NIOSH), and Occupational Safety and Health Administration (OSHA) standards. One of his goals is to scale up the manufacturing of these enhanced masks in Maryland. This project focuses on the continued translation of one of the projects initiated by the Fischell Institute's COVID-19 response.
"I am very excited to work on this project and within the Fischell Institute," says Burke. "I believe this is a great opportunity for me to expand my skills and better prepare myself for a career with medical devices. I am also hopeful that the work being done on this mask project will help to make an impact in the fight against COVID-19."
Burke's clinical mentor is Lex Schultheis, M.D., a Fischell Institute research professor.