Fischell Institute MPower Fellows Advance Projects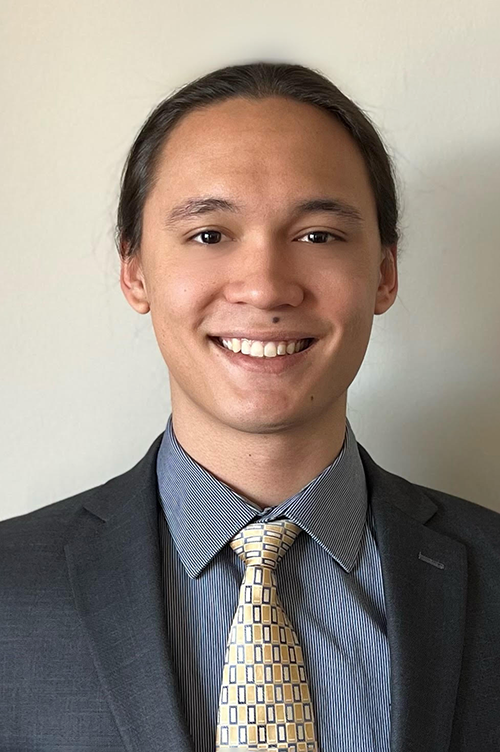 Each year, the Robert E. Fischell Institute for Biomedical Devices invites graduating seniors to apply for the MPowering the State Student Entrepreneurship Fellowship to help transition innovative medical device projects into great business ideas.
The most recent MPower Fellows – David Garvey (B.S. bioengineering '21) and Jonathan Lin (B.S. computer science '21) – are working to develop low-cost treatment techniques for cervical cancer and new diagnostic tools for glaucoma, respectively.
David Garvey's interest in the medical field stems from his mother who is a reputable ER doctor in Grasonville, Md. While he knew early on that he wanted to work in human health, he always had an affinity toward design and building. "I am driven towards bioengineering for its intimacy with the medical field and its emphasis on improving upon our current solutions to global health challenges through engineering," he said.
Garvey's research interest centers on cervical cancer, the fourth most common cancer among women worldwide. Women in low- and middle-income countries (LMICs) face disproportionately lower survival rates due to a variety of factors including limited access to trained providers and biomedical technologies needed to diagnose and treat cervical precancer before it becomes cancer. Recognizing this, in 2021, Garvey and his fellow bioengineering Senior Capstone Design team members worked with Fischell Department of Bioengineering (BIOE) Assistant Professor and Fischell Institute faculty member Jenna Mueller to develop a handheld ethyl cellulose-ethanol (ECE) injector that could be used to treat precancerous lesions of the cervix. In order to deliver ECE to LMICs, the team proposed a low-cost, portable, handheld device that uses a rechargeable battery-powered injection system, a mechanical needle actuation system, and a dual needle design to decrease treatment time.
Outside of bioengineering, Garvey partakes in traditional Chinese Kung Fu. According to him, his study of the principles of Kung Fu have helped him overcome obstacles he faces in everyday life.
Garvey is excited to work with the Fischell Institute because he feels the experience offers a unique opportunity to learn, practice, and apply engineering design on a much more comprehensive level than is possible through traditional coursework alone.
"I am extremely excited at the prospect of making a global impact with my work at the Fischell Institute," he said. "I am also excited by the prospect of graduating with the capabilities of a contributory bioengineering professional."
Jonathan Lin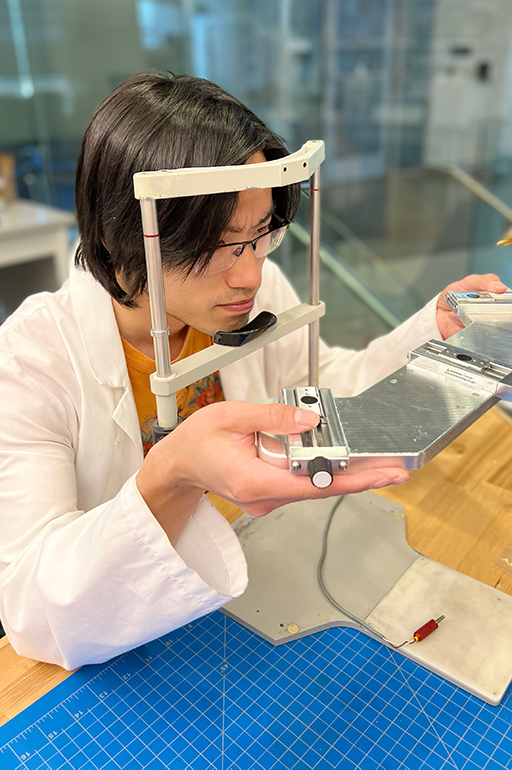 Jonathan Lin earned his bachelor's degree in computer science from the University of Maryland in 2021.
A Whippany, N.J. native, Lin's love for microbiology dates back to when his father first bought him a microscope. But, when he was just 10 years old, Lin stumbled on a book about web design in his fifth-grade library.
As he dug into this new world, he came across what are known as cellular automata – discrete models of computation that involve interactions of homogenous cells across 2D grids. A simplified application of this can be found in what's known as Conway's Game of Life – a 2D simulation of how cells will behave based on different factors dictated by the user.
These platforms provided Lin with a unique look at the convergence of biology and computer programming. In essence, they became his launchpad.
"I loved biology, but at the time, I felt like there were too many roadblocks to running experiments," he said. "You can't experiment on things you can't access. Instead, I found that computers – more specifically, computer simulations – serve as a good starting proxy for running traditional experiments. In computer science, you have nearly limitless opportunities to engineer solutions to the problems you encounter."
As an undergraduate, Lin participated in UMD's Gemstone Honors program – a unique, multidisciplinary, four-year research program for selected undergraduate Honors College students. Lin joined Team CONTACT – a group that worked to improve and lower the cost of glaucoma detection. Fischell Institute faculty member and BIOE Associate Professor Giuliano Scarcelli served as Team CONTACT's mentor.
Glaucoma is a chronic disease of the eye linked to increased intraocular pressure that eventually results in blindness. Screening for glaucoma is most often conducted using what are known as tonometers, which focus on the accurate measurement of IOP. Most tonometers apply a force to the cornea and measure the response, from which IOP can be inferred. Contact tonometers – the oldest form of tonometer – rely on the direct application of force to the cornea via a plunger or probe to measure IOP.
Existing non-contact tonometers forgo the use of probes and plungers, but at a cost: because they can only analyze the motion of individual points or planes in the cornea, their accuracy is limited. Another challenge is access; both contact and non-contact tonometers are most commonly found in ophthalmological clinics and hospitals – places that are often inaccessible to the populations most affected by glaucoma.
Recognizing this, Team CONTACT worked to develop improved techniques for non-contact tonometry using deep neural networks, in conjunction with structured light projection, to calculate the movement of the entire corneal surface. Put simply, neural networks are the functional units of deep learning; they use a series of algorithms to mimic the way the human brain operates in order to solve complex problems.
Driven by Team CONTACT's mission, Lin is now working to further the project's aims through his role with the Fischell Institute. He hopes to refine and condense the team's prototype and algorithm, while tapping a wider variety of data to ensure robustness and accuracy in clinical applications.
Outside the lab, Lin loves playing guitar and chess. But, he admits, he can't help but spend some of his free time running experiments with other neural networks.
The Fischell Institute is accepting applications for MPowering the State Student Entrepreneurship Fellows through May 30, 2022. Any graduating University of Maryland, College Park or University of Maryland, Baltimore students in engineering, science, pharmacy, or a related field can apply.
Published May 17, 2022