Fischell Institute Celebrates Invention of the Year Nominations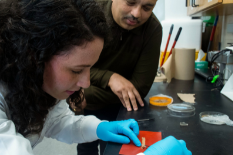 Four researchers with the Robert E. Fischell Institute for Biomedical Devices were recognized during the 2022 University of Maryland Invention of the Year Awards celebration. Srinivasa Raghavan, Department of Chemical and Biomolecular Engineering Professor and Brain and Behavior Institute faculty member, earned the Life Sciences category award alongside Ph.D. student Leah Borden for their work on a suture-free repair for surgery, cuts, and wounds.
In addition to Raghavan and Borden, Fischell Institute researchers Kevin Daniels (ECE, IREAP) and Reza Ghodssi (ECE, ISR, MEII, BIOE, MSE, BBI), and Fischell Foundry engineer John Rzasa were honored as nominees along with their respective collaborators. Rzasa earned two separate nominations in the Physical Sciences category.
Suture-free Repair for Surgery, Cuts, and Wounds
Life Sciences category winner*
Srinivasa Raghavan, Leah Borden
UMD researchers have developed a material for the closure of cuts and wounds and have demonstrated the ability to join severed arteries without using traditional suturing methods (needle, thread, staples). A specially engineered biocompatible polymer gel is applied across the tissues to be joined. Under a DC current of about 10V, the gel strongly adheres to tissue, creating a strong bond that rivals traditional sutures. However, unlike traditional sutures, the process is completely reversible – an opposite voltage may be applied to remove the suture strip, reposition it, and a second attempt made to correct the placement. This method has been demonstrated for tissues of the aorta, cornea, lung, cartilage, and certain types of skeletal muscle and bone, showing potential for an almost universal suturing method unlike any in history. The method and materials show promise in streamlining the suturing process by clinicians while reducing complications of current methods.
Wearable Devices for Measuring Gut Microbial H2S
Life Sciences category nominee
Brantley Hall, Santiago Botasini, Reza Ghodssi
Researchers have developed a wearable device to measure H2S produced by the human gut microbiota that can be worn autonomously for approximately two weeks. During this time, valuable data about gut microbial H2S production is collected. The technology is currently focused on quantification of H2S due to its importance as a human gasotransmitter and a biomarker for inflammation. This platform also has broader applications to measure the production of numerous volatile compounds produced by the human gut microbiota.
OtoPhoto: AI-Enhanced Otoscope for Diagnosing Pediatric Ear Disease
Physical Sciences category nominee
James Clark, Therese Canares, Mathias Unberath, John Rzasa
University of Maryland researchers, in collaboration with Johns Hopkins University, have developed an innovative technology that enables virtually anyone to record and triage a child's ears' symptoms and status confidently and competently. Additionally, this technology has the capacity to aid virtual healthcare (telemedicine) visits and improve the diagnostic accuracy of ear disease. The technology consists of 3 distinct components: (1) An AI algorithm which diagnoses ear disease from video; (2) a unique digital otoscope capable of capturing a high-quality ear exam even with a novice user; (3) an application for a smart device which records the data from our otoscope, uses the AI algorithm and can communicate with an electronic medical record (EMR). With this device, physicians, medical assistants, and even parents at home can safely and confidently probe and child's ears and get results quickly confirming or ruling out ear disease.
The Coronalyzer: Sensor System for Detecting COVID from Human Breath
Physical Sciences category nominee
Kevin Daniels, Soaram Kim, John Rzasa
Researchers have developed graphene-based sensor and system to report the presence of SARS-CoV-2, the virus responsible for COVID-19, and other viruses in the breath of a subject, much like a traditional breathalyzer detects the presence of alcohol. Graphene is functionalized with SARS-CoV-2 S1 spike protein antibodies, the proteins created by the immune system in the human body during infection with COVID-19. When the SARS-CoV-2 S1 spike protein antigens, which surrounds the virus, comes in contact the surface of the sensor and binds with the functionalized antibody, a small strain is induced in the graphene layer which can be detected electrically by sensitive electronics in under one second. The resulting sensor can detect miniscule amounts of antigen (order of magnitude less than RT-PCR), leading to a highly selective, sensitive, and rapid test for COVID-19. The use of such a sensitive and rapid test promises to increase society's ability to track and proactively manage the COVID pandemic.

Additional details about this year's award nominees and winners are available online.
Published May 5, 2022