Payne Lab Study Abroad Student Shares Experiences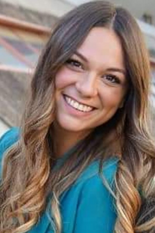 About 4,590 miles away from her hometown, Ph.D. student Rita Argenziano seized an opportunity to study abroad this past semester in an effort to expand her research interests.
Argenziano, a third-year chemistry Ph.D. student at the University of Naples Federico II, has always liked chemistry but she recently decided to learn more about the fields of biomedical and materials sciences.
One of Argenziano's professors in Italy had collaborated with Fischell Institute and Institute for Bioscience and Biotechnology Research professor Gregory Payne. Argenziano, curious about Payne's work, asked her professor if she could work at the Fishell Institute for the spring 2022 semester.
Argenziano arrived at the University of Maryland, eager to research the use of chemistry as a tool in the engineering field. She wanted to learn different ways to approach problems and how to solve them by applying unique engineering approaches. She also wanted to improve her knowledge of instruments and theory.
"Rita has been great to work with because she brings incredible energy to the lab. She's worked really well with all the other members of the group," Payne said.
While in Payne's lab, Argenziano worked on melanin systems and spent much of her time studying particular types of polymers using electrochemistry as a tool for tapping into biological systems. Some of her work centered on synthesizing certain types of polymers for use in biomedical applications, such as for sunscreen, antioxidant activity, or antimicrobial activity as well as for nanotechnological applications such as conductor systems.
The driving forces behind Argenziano have always been curiosity and passion. She says she has always loved the excitement of discovering and understanding how something works by looking at it through a different lens. After graduation, Argenziano plans to pursue a career in academia as a way to push and improve herself.
In her short time with the University of Maryland, Argenziano has already celebrated a number of successes.
"I can say honestly that I'm very lucky to have met a very nice group of people that believe in the importance of collaboration," she said. "So far, the best part for me is our group meeting time where people can exchange ideas and share opinions honestly."
Argenziano recommends this experience to others. "Of course, it could be difficult at the beginning because you are in a different country with a different culture," she said. "But this can also provide a pathway for enriching yourself."
Published June 2, 2022