Undergrads and research experiences: Win! Win! Win!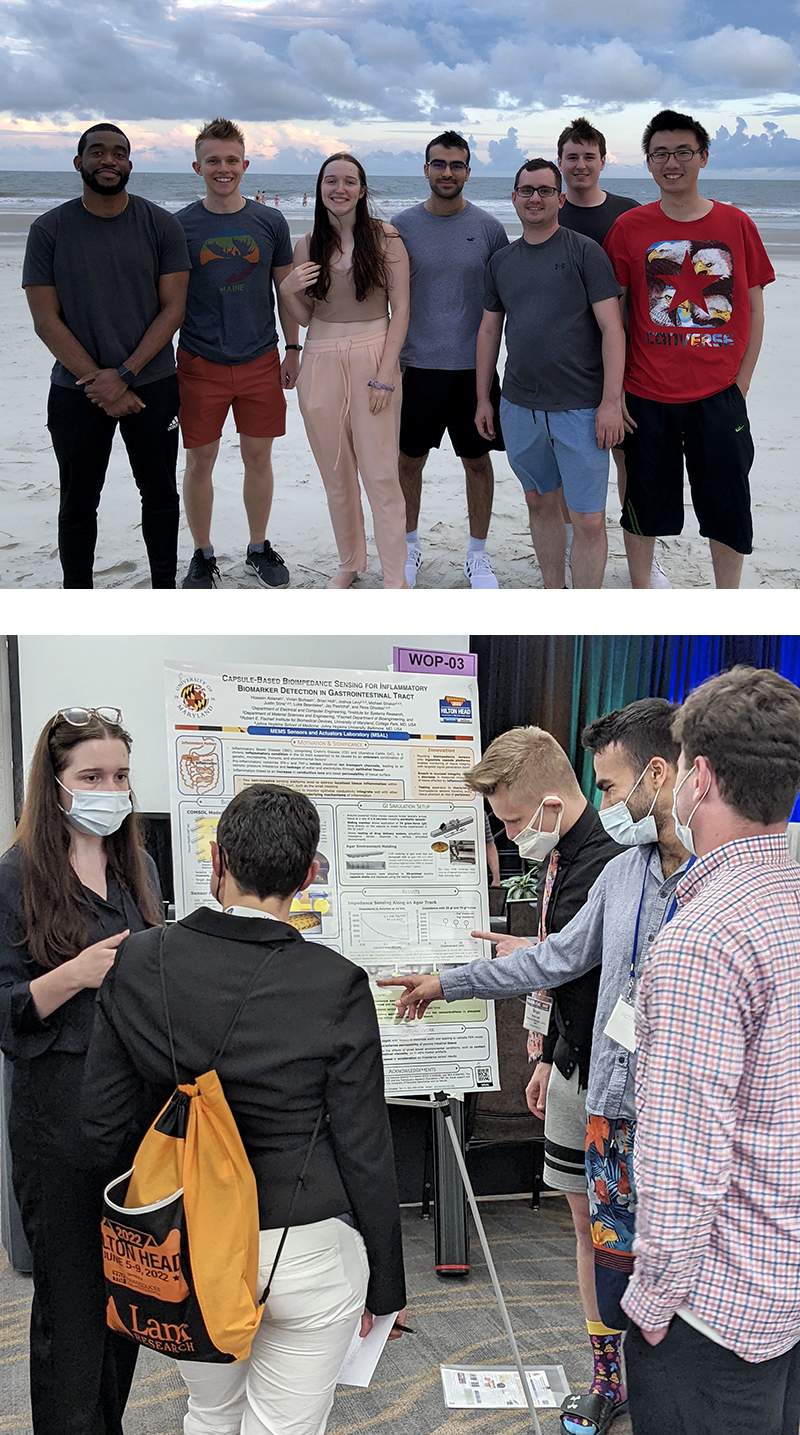 Hands-on learning opportunities offered to undergraduate students are a hallmark of Clark School of Engineering education. From the projects students experience in the required freshman course, ENES 100 "Introduction to Engineering Design," to the Alumni Cup "Rube Goldberg" competitions held between departments each spring, there are plenty of opportunities to work on real-life engineering problems.
However, beyond these opportunities, there is an additional challenge: to introduce engineering undergraduates to the research process in laboratory environments. Throughout their undergraduate careers, exposure to research gives students the chance to experience career possibilities—whether they will eventually work in industry, government, opt for additional specialized study in graduate school, or even go on to an academic career.
From IC fabrication to ingestible medical device research
Professor Reza Ghodssi (ECE/ISR) has been introducing undergraduates to hands-on research experiences since he joined the University of Maryland in 2000. "Over the years we've had more than 80 undergraduates work in our MEMS Sensors and Actuators Lab (MSAL)," he says. "They have learned how research works and what a lab environment is like. They have been involved in our long-term projects, published research and have presented at important conferences. Some of these undergraduates have even been first authors on our lab's papers."
Ghodssi has a firsthand understanding of the importance of undergraduate research opportunities. "I was fortunate to be exposed to a research environment as a junior," he says. "It was this experience that made me think about graduate school, creating MEMS devices, and an academic career. Whatever you are going to do later on, whether it is in academia, industry, or even changing your degree away from engineering, experiencing research is a key to help you decide what to do."
In Fall 2021, Ghodssi taught the senior level undergraduate lab class ENEE 416, Integrated Circuit Fabrication Laboratory. The class uses the facilities of the Clark School's FabLab to introduce students to hands-on fabrication, processing, testing and characterizing of integrated circuits on silicon wafers. These "ICs" are important components of devices like transistors, diodes, resistors, and capacitors. The course requires students to write two extensive lab reports in addition to regular homework and exams. These reports describe the fabrication and device characterization process, process flows, observations and variation, and include comparisons of theoretical and experimental data. Students often include these detailed reports when applying for positions after graduation.
Giving undergraduates experience and confidence
Because many undergraduates either are unaware of independent research opportunities or don't know how to approach a faculty member to ask about them, at the end of the semester Ghodssi invited students who did especially well to take independent research course ENEE 499 in his MSAL lab the following spring. Taking Ghodssi up on his offer, Vivian Borbash (EE BS 2022); Hossein Abianeh (EE BS 2022), and Brian Holt (EE BS 2022), gained a valuable understanding of how a lab works, what researchers do, and what goes into managing a successful project.
The three students worked approximately 10 hours a week in the lab, each assigned a specific task on the project, "Capsule-Based Bioimpedance Sensing for Inflammatory Biomarker Detection in Gastrointestinal Tract." This work is part of a long-term MSAL research focus on developing a flexible ingestible capsule with sensors that can gather data on the underlying mechanisms of inflammation in the gastrointestinal tract. Such a device could someday aid in unlocking how a combination of genetic, microbiome, immune system and environmental factors influence chronic auto-immune inflammatory bowel diseases like Crohn's Disease and Ulcerative Colitis.
Holt was tasked with bioimpedance sensing modeling and fabrication, Abianeh worked on capsule molding and assembly, and Borbash contributed to GI simulator setup and test modeling. All three participated in experiments, wrote reports on their work, and helped to file a provisional patent application.
"I designed and 3D-printed a piece to apply force on an ingestible capsule as it moves along a track," Borbash says. "It simulates the forces the capsule experiences while moving through the GI tract. We were able to use this apparatus combined with a sensor to measure changes in impedance—and since tissue impedance changes as a function of inflammation, it could be a potential way to detect inflammation in the GI tract."
Growth for everyone
Because they each worked on a different part of the project, the undergrads needed to interact with each other as well as with their mentors. The students' presence "helped our project work advance much more quickly," Ghodssi says. "Young undergraduates are more fearless than we faculty or even our grad students. They take risks that benefit the entire research group."
There's a wealth of research opportunities available to undergraduate students in the Clark School. Here's how to take advantage of them and enhance your experience at the University of Maryland.
• Think about the engineering subject matter and course you've liked the most.
• Approach the instructor and ask for opportunities to do research in their lab or research group. Don't be shy!
• If the instructor does not have an opportunity, be resilient! Ask them for recommendations for other opportunities.
• Consider the many different ways you could get these experiences. There's independent study, but you also could be part of the summer program
NSF Research Experiences for Undergraduates
either here at Maryland or at other universities. You also could apply for summer internships available at our local federal National Laboratories or with industry. You might even consider applying to a research internship abroad. Check out these
Clark School resources
for more information.
"I had ideas I thought we could implement in the capsule, and there were times when we acted on them," Abianeh says. "For example, I noticed copper wire could not be soldered on the V+ terminal of the battery in the capsule. The prolonged application of heat that was needed to bond the solder actually destroyed the battery. I figured a way to spot weld a different piece of metal with a lower bonding temperature onto the battery (Nickel), and it worked!"
"I was surprised by the preparation and resourcefulness of the undergrads," said Justin Stine, one of the graduate student mentors. "With the limited time we had in the lab, you really want to be actively manufacturing, testing, or designing. Since ENEE 416 had already acclimated them to computer-aided design (CAD) and modeling software, applying this knowledge towards project design was efficient."
Rewards for hard work
In June, Borbash, Abianeh and Holt presented a poster explaining the research at the prestigious 2022 Hilton Head Workshop in South Carolina. Here they had the chance to meet and interact with the international community working in sensing, actuation devices and microsystems research.
"Hilton Head was the crowning touch to our hard work in the lab," Holt says. "I could explore advances in ingestible and implantable microsystems. The networking and discussions I had with other researchers generated ideas for improving our project. Plus, the workshop offered many fun twists that we enjoyed, like making presentations in 'Zoom formal attire.'"
Post-graduation, Hossein Abianeh works for AMSL, a company that builds photo-lithography machines for manufacturers like TSML and Intel. He says, "The nine months I spent in ENEE416 and 499 completely changed the course of my life. I went to my job interview with AMSL at the end of March and realized the content I covered in class was exactly the knowledge I would need for this job. I stood out in the pool of applicants because I brought along integrated circuits on a silicon wafer that I personally made. I find it incredible how much of a direct relationship there is from what I learned from Dr. Ghodssi to what I am doing at my job now."
Vivian Borbash now works as a junior software engineer at DeepSig, Inc. in Arlington, Va., a startup company that uses artificial intelligence to improve and optimize wireless communications. She hopes to go back to school at some point for an advanced degree.
Brian Holt is continuing his University of Maryland studies this fall, concentrating on BioMEMS as a Ph.D. student and Clark Fellow. He says, "This research experience demystified graduate school and helped me decide where I wanted to direct my doctoral studies. Without it, I would not have pursued graduate research in such a hands-on, engaging, and interdisciplinary field. I hope to contribute meaningful research to ingestible capsule design to advance medicine and relieve patients suffering from inflammation diseases."
Long-term benefits
Ghodssi believes introducing undergraduates to hands-on research experiences also benefits the graduate students and postdocs who mentor them, as well as their faculty members and the employers for whom they will eventually work.
"As they mentor undergrads, graduate students and postdocs become stronger and more confident in their own abilities," he says. "I believe they end up as more well-rounded than those who have not had this experience."
Graduate student Joshua Levy, one of the mentors, remembers teaching the undergrads about how scheduling and planning for experiments could help them stay committed to their research. "Working with them also helped me stay on schedule," he says. "I was able to create a more defined plan to accomplish our complementary research goals."
His colleague Justin Stine says, "It is so rewarding when undergraduate students show genuine interest and excitement about your research. It really does motivate and inspire you, as a graduate student, to innovate and get your work done to make sure you are always a bit ahead of the undergraduate!"
"Early exposure to research in science and engineering is a life-changing experience for our undergraduate students," Ghodssi says. "As a public university faculty member, I feel it's part of my job to provide these opportunities to them. And the good news is that we all win in the end."
Published August 10, 2022