Fischell Institute Investigates Biocompatibility of 3D-Printed Dental Devices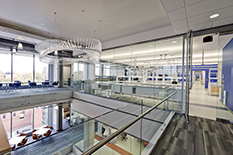 Robert E. Fischell Institute for Biomedical Devices faculty member Lex Schultheis and director William Bentley are leading a series of biocompatibility studies on 3D-printed dental devices.
This research is part of a University of Maryland Center of Excellence in Regulatory Science (M-CERSI) project initiative aimed at informing FDA reviews regarding the likelihood that novel 3D printing methods of dental devices will cause adverse reactions in patients such as allergic, inflammatory, or toxicological reactions.
Past studies on 3D printers have shown that certain resins, when 3D printed, may be biocompatible for direct patient contact in dental procedures, particularly oral surgery.
A principal focus of the group's work will be evaluation of Form 2 Dental LT resin using a new stereolithography (SLA) printer workstation dedicated specifically for this research. Using a printer which has only been exposed to one resin type minimizes contamination and simplifies data interpretation.
The group plans to demonstrate 3D-printed parts that adhere to industry acceptance standards for biocompatibility as well as precise parameters of 3D printing and process control. If the device meets these standards, its development will also serve as a reference point for the creation of future biomedical devices.
Schultheis and Bentley are working with FDA collaborators James Coburn, Matthew Di Prima, Katherine Vorvolakos, Berk Oktem, Keaton Nahan, and Rakhi Dalal.
Published June 26, 2019